You're probably going to be in a car crash some time in your life. And if you're in your 20s, it'll probably be sooner rather than later. Really.
No one wants to think about getting into an accident. We all know we're the world's safest drivers. But according to the National Highway Transportation Safety Administration, in 2002 there were an estimated 6.3 million police-reported motor vehicle traffic crashes — 46 percent of those resulted in injuries and 42,815 resulted in death. And of thealmost 3 million people killed or injured in police-reported motor vehicle traffic crashes in 2002, 1.6 million were of the ages 16 to 20.
Careful as you may be, it is still inevitable that some bozo is going to be talking on his cell phone and will rear-end your precious vehicle. Face it, the accident is going to happen, so let's learn what to do next.
Stop and get out of the car
First things first, check your own body. Take a deep breath, count limbs, look for blood, and check for any aching parts. Oh yeah, and ask those other folks in your car how they are.
With your body intact, get out of the car. OK, that could be easier said than done. If your car has electric locks, damage to the engine could leave you stuck. So the next time you get in the car, like tonight, read your manual and find out how to open the doors manually. If your car ends up in the water, due to veering off the road, escape by rolling down or breaking a window.
What if you sense there's more danger outside of the car?
"We don't recommend you stay at the accident if it appears someone intentionally rammed you," explains Lt. Chris Ricks of the Missouri Highway Patrol in Jefferson City, Mo. "Drive to the nearest supermarket or a place with lots of people. Under Missouri law, you are not required to stay at the scene, but you must contact the police immediately." Laws in your state may differ, so check them out.
Crash checklist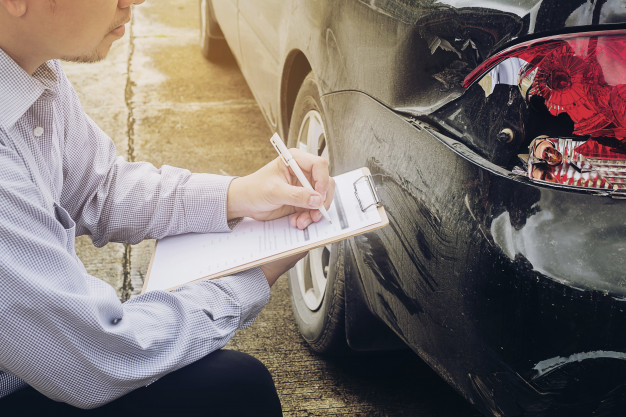 Don't move your car if the accident scene is safe. However, if the accident happens just over a hillcrest, you might want to move the cars so another car doesn't come along and make the whole situation a bigger mess. Lt. Ricks recommends if you and the other party have to move your vehicles, try to mark where they were.
Call 911. The dispatcher will ask you if there are injuries, if the cars are causing a roadblock, and for a general description of the accident. Most folks know that when you call 911 from a standard phone, the dispatcher can see the address and phone number of your location. However, with a cell phone, that's not possible — so remember to tell them where you are. With your one call, 911 operators can send out a veritable parade of rescue vehicles.
"Any accident with injuries, we send a fire truck in case there is also a fuel spill," explains Lantana, Fla., 911 dispatcher Matthew Ott.
Get the facts, man
Insurance companies USAA, based in San Antonio, Texas, and GEICO Direct, based in Washington, D.C., recommend gathering the following information after a crash:
Get the names, addresses and insurance information of the other drivers, and provide yours to them. USAA recommends also noting the number of passengers in the other car(s), to prevent unscrupulous people from "adding" passengers after the accident.
"Exchanging information before the police arrive gets people talking rather than arguing," says Lt. Ricks. There's no need to start placing blame. "The police are good at determining negligence," he adds.
Talk to witnesses as soon as possible, especially if you think you were wronged. You may need to get their names and phone numbers for the police, because witnesses tend to want to leave. Tip: Keep a pen and small notebook in your glove compartment.
Get as much information as possible, including the model, make and year of the cars involved. Be sure to note the time, location and weather conditions at the time of the accident. Write a brief description of the accident for future reference.
Never admit fault for the accident at the accident scene. Both insurance companies say it's OK to express concern about what happened, but don't admit liability. Come on, you had practice with this when you played baseball indoors and broke mom's favorite lamp.
To the rescue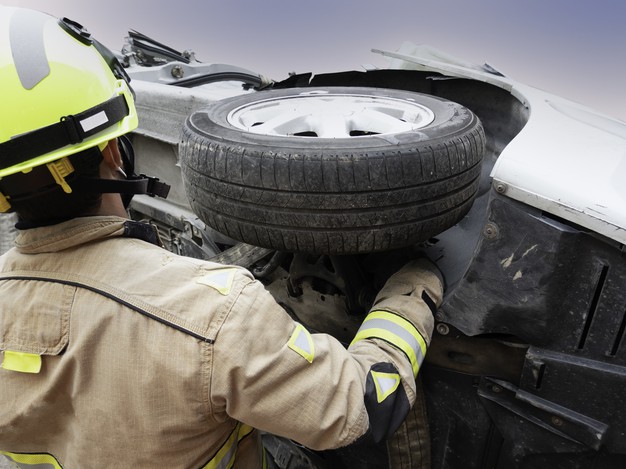 You might be tempted to work out a really minor accident — such as scratches to your bumper — between you and the other driver. Of course, technically, the police won't mind because they won't know. Then again, just try not telling the police.
"A good accident, we get probably 30 calls because everyone's got a cell phone now," says Ott. Besides you're kinda supposed to call it in anyway.
"The law (at least in Missouri) says that accidents that cause more than $150 in damages or any injuries must be reported to the police," reminds Lt. Ricks. And your insurance company is going to insist on a police report as proof there really was a crash.
When the police arrive, have your driver's license, registration and insurance card ready. The officer will ask for information on you and everyone else in the vehicle including phone numbers. He's also going to ask if you were wearing your seat belt — they have laws about that, too.
Finally it's time to tell your version of the story. Most officers will ask what happened in the presence of both drivers. Lt. Ricks says this isn't to start an argument, but rather so the police officer can note the reaction of one driver to the story of the other.
For your report to your insurance company, get the name of the law enforcement agency investigating the crash, and if possible the case number and names of the officers at the scene.
As soon as possible after the accident, contact your insurance company. Most companies, such as USAA and GEICO Direct, offer a toll-free line for reporting claims 24/7. Your insurance company is going to want a copy of your documentation about the accident.
Be prepared
GEICO Direct suggests keeping the following items in your car in case of emergency:Pens or pencilsPaper or a note padFlashlightFlaresFirst aid kitBlanketJumper cablesRag or paper towelsTrash bag
Lt. Ricks does not recommend drivers carry flares in their cars because they can be explosive. However he seconds the recommendation of a blanket or other winter weather gear, because "in a snow storm, it may take the police awhile to respond. Especially the first snow of the year, the police usually have several calls. You may have to wait."
The responses below are not provided, commissioned, reviewed, approved, or otherwise endorsed by any financial entity or advertiser. It is not the advertiser's responsibility to ensure all posts and/or questions are answered.