The usual argument from uninsured people goes something like this: Why do I care to leave $1 million to anyone if I am dead anyways? That's not just selfish, but also a poor financial decision—on so many levels. Life insurance can cost you as low as $16 per month. Be honest with yourself. In the past few months, on how many unnecessary things have you spent $16? That UberEats delivery you could have done without or that drink at the bar you didn't even finish surely comes to mind.
All the stigma around life insurance usually revolves around having to confront your own mortality. But in reality, you're not going to die any sooner just because you decided to get smart about ensuring your family's future, or leaving something behind to your loved ones if something were to happen to you. Getting life insurance is not only a smart decision, it's also a responsible decision. Think about this. If something were to actually happen to you, why would anyone else have to bear the cost? Responsible people just don't think that way. To illustrate this point, consider the story of Doug Fisher a young hard-working 24 yr old from Worcester, MA who had $7,000 in savings and investments and died in a car accident while vacationing in Hawai. After taxes, what Doug left behind wasn't enough to cover all of his funeral arrangements, leaving his single mother dealing with a very difficult situation in addition to having to cope with a terrible tragedy. Doug felt like he had enough money to save, invest, and go on vacation, but not for the $16 per month in premiums he would have had to pay to get a term life insurance policy.
Common arguments against getting life insurance now include:
I am too young and healthy. I'll get It later
I love this one. Getting coverage while you are young is the smartest thing you can do. The longer you wait, the more expensive life insurance gets. If you get your life insurance while you're young and healthy, you can often lock in a rate that's so much cheaper, in case your health takes a turn for the worse later in life. Procrastinating on getting coverage will cost you.
I don't have any kids
Do you have a spouse or partner who depends on your paycheck to help pay for living expenses? How about a sick parent or relative who would need to hire a caretaker if you weren't around? These are just a few of the many reasons to consider life insurance, even if you don't have any kids. It should be as essential as paying for your cellphone bill.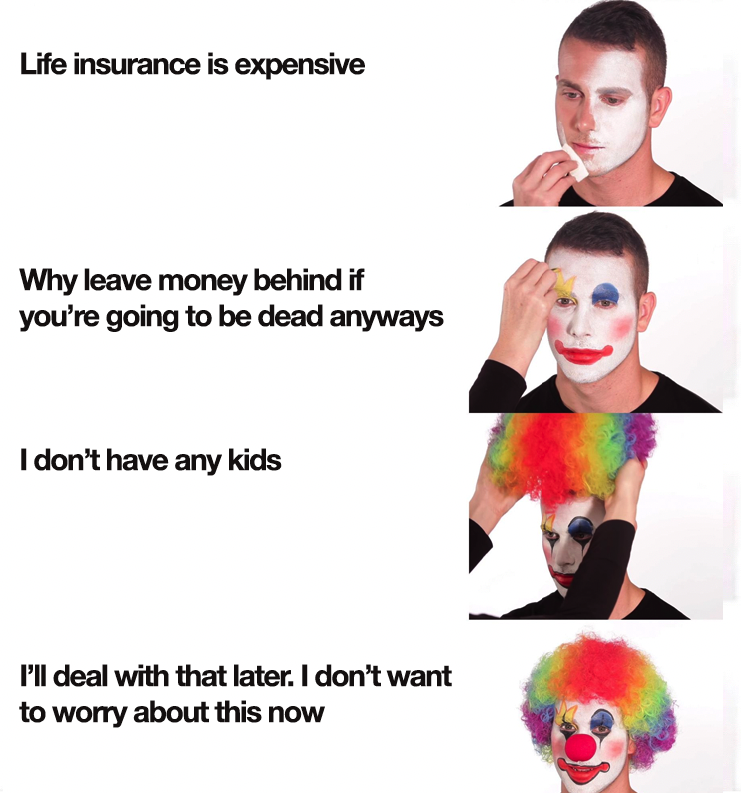 So where can I get affordable Life Insurance?
The best way to get a great deal on life insurance is to compare prices from several insurance companies. BestInsurer can match you up with multiple providers so you can pick the lowest rate. It's like Kayak or Trivago, but for life insurance. So, click on the button below to compare rates from multiple providers. Life insurance is a serious decision you should consider, and the best way to do that is to have all of the facts at hand and learn how much it would cost you today vs in the future. All kidding and clown memes aside, If you have ANY savings or money invested in stocks, crypto, gold, or any other investment vehicle before you got a life insurance policy, you are really not thinking clearly about risk management because a very small investment on your part and a few minutes of your time can literally mean that someone out there that you care about can have a life-changing extra layer of security if you are no longer around.